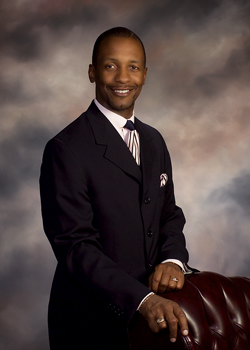 The Rev. Dr. Bobby L. Love Sr., is a native of Liberal, Kansas and has been privileged to serve the Most High God as our Pastor for the past 31 years. He presently serves in the cabinet of the Missionary Baptist Convention of Kansas as General Secretary- Chief of Staff. Pastor Love commenced his undergraduate studies at Seward County Community College, Emporia State University, and Western Baptist Bible College, and completed his Graduate Studies at Andersonville Theological Seminary earning his Master of Theology and Doctorate of Ministry in Pastoral Leadership.
Rev. Love is the Associate Dean and Professor of the Western Baptist Bible College-Olathe Campus. He is a licensed Pastoral Counselor through the National Christian Counselors Association and provides Christian Counseling services to the community. He and Lady Love are certified by the Step Family Foundation Inc. of New York as Counselor and Coach repectively. As a result of their own personal journey they have launched a new venture called "Step with Love Ministries". This ministry is specifically designed to strengthen couples and families dealing with step family relationships. Through the inspiring messages and the willingness to be open with the perils of being a step family, The Love's are in demand throughout the nation to be keynote speakers, workshop facilitatiors and seminar presenters as subject matter experts on the dynamics of living in "step". (note: there are 1300 new stepfamilies created each day)
Dr. Love was recently honored by the MidAmerica Nazarene University with its Martin Luther King Jr. Living Legacy Award. He is the recipient of the Olathe Community Leadership Award as well as The Olathe Human Relations Diversity Award and was recognized as one of Olathe's 150 most notable persons.
Pastor Love is committed to seeing and promoting effective change within our community. To that end we are pleased to share our Pastor with the community at large where he continues to provide leadership to a number of civic boards, task force committees and organizations. He is on the Executive National Leadership Team of the African American Leadership Commission, and Co-Chair of the Metro Organization for Racial and Economic Equity (More2) for the state of Kansas. He has served Three Kansas Govenors in Congressional District 3 for the Kansas African American Affairs Commission. Locally, he serves the Olathe Community as member of the Olathe Medical Center Community Advisory Committee and the Johnson County NAACP.